Nicholas Peppas Receives Medal of Honor at the 35th Annual Ellis Island Honors Society (EIHS)
May 16, 2022
Nicholas Peppas, Cockrell Family Regents Chair in Engineering #6, received a Medal of Honor on May 14, 2022 at the 35th Annual Ellis Island Honors Society (EIHS), for his work in biochemicals. Peppas is a professor at McKetta Department of Chemical Engineering, Department of Biomedical Engineering, and Division of Molecular Pharmaceuticals and Drug Delivery at The University of Texas at Austin.
The Ellis Island Honors Society honors the importance of immigration to America's prosperity and celebrates the contributions immigrants and their progeny have made to our nation. In 1986, Ellis Island Honors Society founded the Ellis Island Medals of Honor to commemorate the indefatigable spirit of those who immigrated to the United States during the Ellis Island era. The Medal is presented annually to those who have shown an outstanding commitment to serving our nation either professionally, culturally or civically, among other criteria.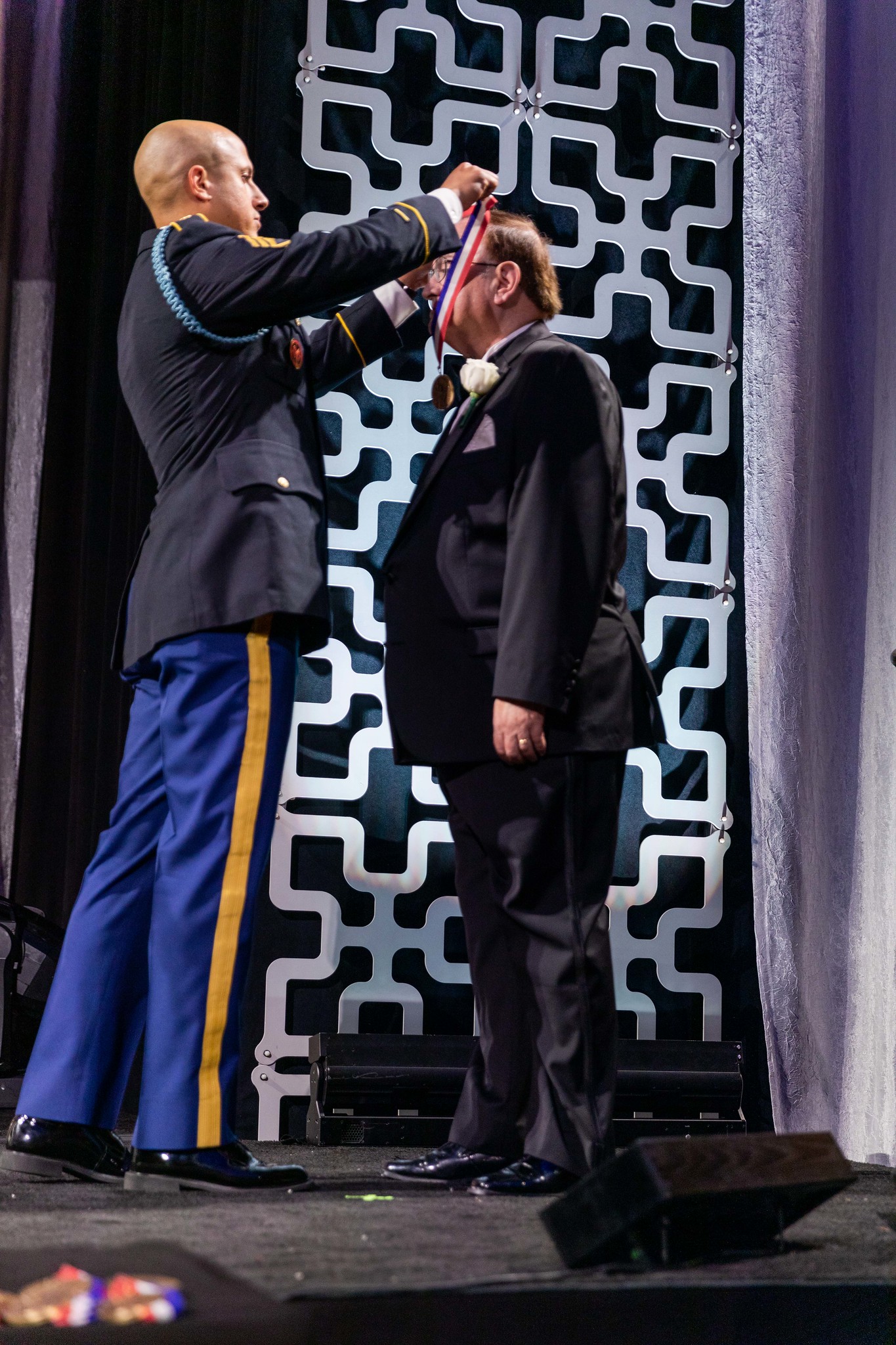 Peppas was among 85 medalists who were recognized for their leadership and service within their communities and professions while exemplifying the values of the American was of life. The 2022 medalists received and celebrated their awards in front of an iconic view of the Statue of Liberty and Manhattan skyline.
The evening commenced with an introduction from co-masters of ceremony, Marvin Scott and Jill Nicolini of WPIX, followed by opening remarks from EIHS chairman Nasser Kazeminy. "This year's distinguished medalists come from a range of industries and backgrounds," Kazeminy shared. "We honor them, not for where they came from, but for what they bring to our great nation. Each of them represent a thread from which the fabric of this great nation is woven. A fabric rich in color and diversity and incapable of being torn apart."
Since the Medal was founded in 1986, EIHS has honored distinguished and diverse Americans including: Presidents of the United States; Nobel Prize recipient Elie Wiesel; Generals Norman Schwarzkopf and Colin Powell; Justice Sandra Day O'Connor; Secretaries of State Madeline Albright, Condoleezza Rice and Hillary Clinton; Albert II, Prince of Monaco; Bob Hope; Muhammad Ali; Frank Sinatra; Rosa Parks; Mike Wallace, and Oscar-winning actress Rita Moreno. All have distinguished themselves through their significant philanthropic and humanitarian contributions to this country.
The Ellis Island Medals of Honor ranks among the nation's most renowned awards. The U.S. Senate and House of Representatives have officially recognized the Ellis Island Medals of Honor, and each year the recipients are listed in the Congressional Record.