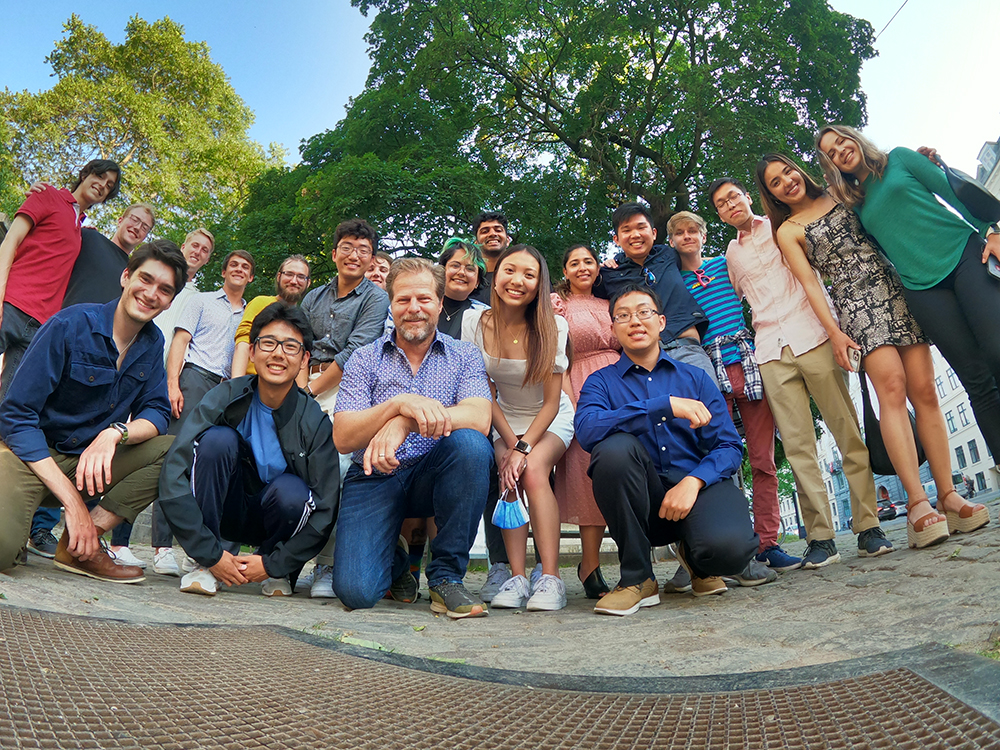 #7
Best Graduate Engineering Program in the U.S.
U.S. News and World Report
100%
Of PhD Students Are Fully Funded
What Starts Here Changes the World
Imagine what doors will open to you when you take on graduate studies in the McKetta Department of Chemical Engineering at The University of Texas at Austin. Whether you aspire to join academia, work in national laboratories or industry, or launch your own startup – the possibilities start here.
As part of a program ranked No. 7 in the nation, according to U.S. News & World Report, enhance your technical and teamwork skills. Learn from an award-winning, world-class faculty community. Shape groundbreaking research that addresses challenges in energy, human health, sustainability and more. Engage in collaborative partnerships, advance world-changing ideas and join a vibrant community of inspiring, focused and innovative engineers.
Students select UT for its academic excellence, its commitment to research and teaching, and its location in the heart of a city that is consistently ranked as one of the best places to live, study, and start a career (see About the Department). And all of our chemical engineering Ph.D. students are guaranteed full funding.
So, what are you waiting for? See yourself at UT and apply today.
Broadening Participation
Through a sustained effort to strengthen diversity, provide equitable opportunities, and develop an inclusive environment within the Texas ChE community, we have developed specific actions, communications, policies, and processes that we strive toward. Learn more about our Broadening Participation commitments and goals.
Graduate Program Snapshot
100% of our graduate students receive full funding, including tuition, health insurance, and a competitive stipend
1 in 2 receive additional fellowships to offset living expenses, on top guaranteed full funding
41 National Science Foundation fellowship students
156 current enrolled graduate students
30 - 40 new Ph.D. students enroll annually
42% of our incoming class are women
35% underrepresented minority
Our students come from 25+ different countries
We Are Community-Focused, Family-Friendly
Academic milestone extensions for family needs
Access to lactation rooms on-site and the UT Child Development Center
80+ engineering student organizations including groups with a focus on diversity, representation and equity, support of students with diverse backgrounds, the LGBTQ community, and women engineers
World-Class Faculty
28 full-time faculty
100% of our faculty have been recognized with prestigious or coveted national or international awards in research, teaching, career accomplishments, or all three.
Over 95 US issued patents
84% of faculty work in two or more research areas
1/3 of faculty hold dual appointments in UT departments including chemistry, physics, pharmacy, mechanical engineering and biomedical engineering
Over 35% of faculty have founded or co-founded startups in fields that include biotechnology, medical therapy, diagnostics and water treatment.
Interdisciplinary Programs
About 20% of our graduate students have more than one faculty adviser. This collaborative and flexible approach lets students tailor their research projects to areas they are passionate about.
Over 30 cross-disciplinary centers and programs
25+ specialized degree portfolios
Students have access to classes and resources across campus, including the Dell Medical School, Natural Sciences, McCombs School of Business, the School of Law and more.
Career Paths
Our graduates succeed in a wide variety of career paths:
Academia
Government
Consulting
Industry
Entrepreneurship
Over 125 alumni are currently academic faculty around the world
Professional development support
Certificate in Engineering Education to prepare future faculty
The Austin Technology Incubator for innovation commercialization
Professional development workshops
Student travel funding
Welcome to Austin
Austin, Texas, the state's vibrant capital city, is one of the nation's major tech hubs with booming startups and large companies calling the city home, including Dell, Whole Foods, Google, National Instruments, Silicon Labs, Freescale Semiconductor, and others. Austin boasts SXSW, BBQ, live music and a sunny, temperate climate year-round.
#5 Best Place to Live in the US – U.S. News & World Report
#1 Best Place in the U.S. to Start a Business – Inc
Program Requirements
During their time in the program, all students complete a minimum of 18 hours of coursework (typically equivalent to 6 courses), serve two semesters as TAs in the department, and present their work as part of a seminar series during their 3rd year. They must write a preliminary research proposal and pass an oral exam before advancing to candidacy. Finally, all students submit dissertations and pass final oral examinations to complete the program. All of these requirements are designed to prepare students for careers in academia or industry, while allowing ample flexibility and time to focus on research. Although our students can earn a master's degree on the way to their doctorate, our program is a PhD-only program; we do not admit students to pursue a terminal master's degree.
Funding
We fund our students through a combination of Graduate Research Assistantships (GRAs), Teaching Assistantships (TAs) and fellowships. All of our students are 100% fully funded, which includes a competitive stipend, tuition, and health insurance. More on funding here.
Research Areas
In the McKetta Department of Chemical Engineering, the $20.5 million in annual research funding supports programs in six broad research areas.
Learn about some highlights of research being done by faculty and graduate students in our department.
Read more about the Research Areas in the department