Mandy Barrera named 2022 Ruth Crawford Staff Excellence Award Recipient
January 2, 2023
Mandy Barrera, senior administrative associate, received the 2022 Ruth Crawford Staff Excellence Award at the McKetta Department of Chemical Engineering Annual Holiday event, Dec. 10.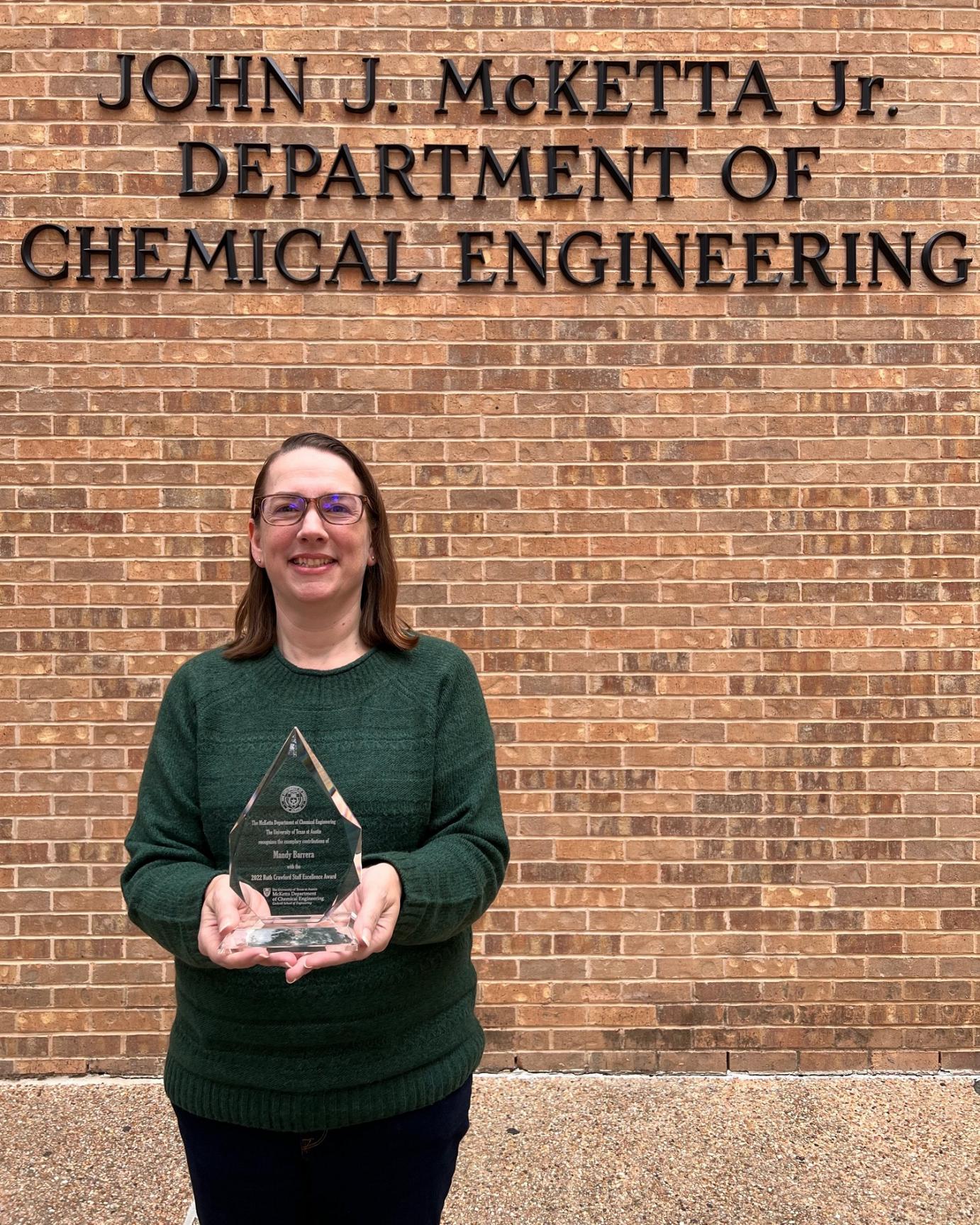 Mandy has been an extraordinary asset since beginning a new position with the department in January 2021. She has provided indispensable support to so many departmental activities and functions, especially as our department has experienced turnover and staff transitions. Throughout all of this, she has maintained a friendly, helpful, and welcoming demeanor, an essential quality for interfacing with seminar speakers, alumni, and departmental guests.
The Ruth Crawford Staff Excellence Award is an annual award that recognizes exemplary staff contributions and is named after former senior staff member Ruth Crawford who devoted 30 years of exemplary service to the department working for Professor Emeritus John J. McKetta Jr.
Mandy's efforts since joining the team have been crucial to the success of our department, as demonstrated by the excerpts below:
"In her own core responsibilities, Mandy has expanded her efforts and adapted to accommodate new departmental strategies. For example, she provided administrative support to our faculty candidate outreach efforts, implemented surveys of group members and alumni for our faculty review processes, shifted gears repeatedly as we adjusted our seminar series from virtual to hybrid, and tried out different room options to accommodate changing attendance. Mandy always lends a hand with logistics for events and makes all our guests (and faculty and staff) feel welcome in her email communications and provision of drinks, snacks, etc. for meetings. Finally, she has done a great job interfacing with our front desk administrator, Blaer, to help them get up and running and to guide their work in support of departmental needs. Mandy forms a steady foundation for so much that we rely on!"
"Mandy has taken on extra duties since our department has been short staffed. She has been processing vouchers to help keep us afloat. She's friendly, helpful, and deserving of this award."
"Mandy jumped in during the Spring semester when our department was without a Graduate Coordinator and had a huge hand in our successful recruitment weekend. She coordinated travel arrangements for 80 students, placed catering orders to ensure no student went hungry, and helped organized an insane number of logistical pieces to ensure everything went smoothly during the visit. Most recently, Mandy jumped in without hesitation to help process payments that were overdue after our Accounts Payable position has turned over twice in a matter of months. She is always willing to take on additional tasks regardless of whether or not they are in her job duties. Mandy never seeks recognition for her work, but everything she does behind-the-scenes keeps our department operations running smoothly."
The Ruth Crawford Staff Excellence Award recipient is selected by a committee that includes one faculty member, one graduate student, and the previous year's winner. Nominations are requested from faculty, staff and students. The previous year's recipient is not eligible for the award.