Passing of Delbert Max Ottmers Jr. – Former Senior Lecturer and Alumnus
February 14, 2023
Delbert Max Ottmers Jr. passed away Friday, February 10, 2023. He was an alumnus and former faculty member in the McKetta Department of Chemical Engineering.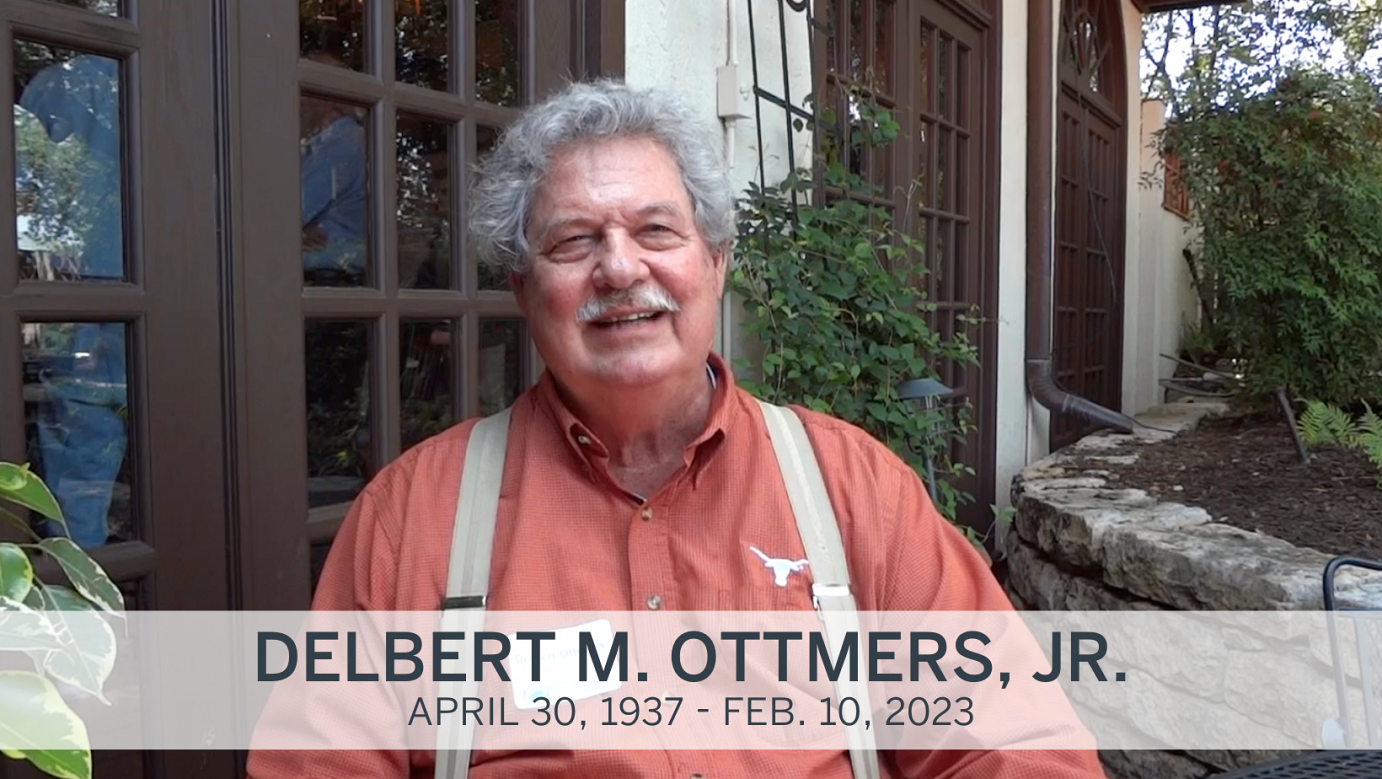 Delbert received his B.S. in 1960 and Ph.D. in 1965, both in chemical engineering from The University of Texas at Austin. After graduating, he worked for Humble Oil in Baytown, Texas before becoming a professor in chemical engineering at Vanderbilt University in Nashville, Tennessee.
Wishing to be closer to family in Texas, Delbert accepted a position with the Austin-based engineering firm Radian in 1969. There he specialized in the field of flue gas desulfurization.
In 1994, Delbert left Radian to become a senior lecturer of chemical engineering in the McKetta Department of Chemical Engineering. He was well-known for engaging with students regardless of class size and made sure he learned the names of all his students.
He also greatly enjoyed being a student advisor and started and continued a long-standing tradition of hosting an annual pig roast with students. After many years and hours devoted to students, Delbert retired in 2004. He continued to attend department events, such as McKetta Luncheons, the holiday banquet and annual tailgate.
A memorial service will be held at Beck Funeral Home, 1700 E. Whitestone Blvd., in Cedar Park, Texas on Thursday, February 16, 2023 from 10:00–11:30AM, with visitation the evening prior, Wednesday, February 15, 2023 from 6:00-8:00PM.
The family's full obituary can be read here and will be published in the Austin-American Statesman on February 14.
Donations in Delbert's memory can be made at http://giving.utexas.edu/CHEgift and will be put towards undergraduate scholarships in chemical engineering. Checks can also be mailed to: Attn: Memorial Donation, UT Austin, McKetta Department of Chemical Engineering, 200 E. Dean Keeton St. Stop C0400, Austin, TX 78712-1589.
Expressions of sympathy for the Ottmers family may be shared at www.beckchapels.com/obituary/delbert-ottmers.