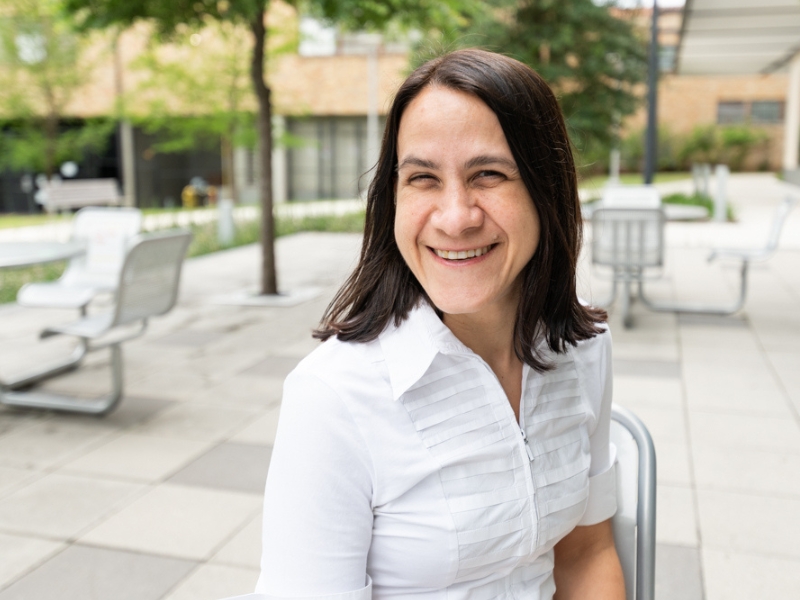 milliron@che.utexas.edu
512-232-5702
Office Location: GLT 1.230 & CPE 2.802E
Delia Milliron
Department Chair and Professor
Bill L. Stanley Endowed Leadership Chair in Chemical Engineering
Ernest Cockrell, Sr. Chair in Engineering #1
Department Research Areas:

Research Presentation for Prospective Graduate Students - Video
Educational Qualifications
Postdoctoral Researcher, IBM T. J. Watson Research Center (2004-2005)
Ph.D., Physical Chemistry, University of California, Berkeley (2004)
A.B., Chemistry and Materials Science and Engineering, Princeton University (1999)
Focus
Chemical synthesis and assembly of nanostructured electronic and electrochemical materials, processing-structure-property relationships, energy and electronic devices.
Research
Our research synthesizes the fundamental chemistry of colloidal nanocrystals, the development of methods for their integration into novel nanomaterials and the systematic investigation of their properties and applications. We are a collaborative team of chemists, materials scientists, and engineers motivated by the challenges of next-generation electronic devices and energy technologies.
Awards & Honors
National Academy of Inventors (NAI), Senior Member, 2023
American Chemical Society (ACS) Inorganic Nanoscience Award, 2019
Edith and Peter O'Donnell Award in Engineering, TAMEST, 2018
Norman Hackerman Award, Welch Foundation, 2017
Sloan Research Fellowship, 2016
Defense Science Study Group member, 2016-2017
Caltech Resnick Institute Resonate Award, 2015
DOE Early Career Research Program Award, 2010-2015
R&D 100 Award – Universal Smart Windows, 2013
Mohr Davidow Ventures Innovators Award, 2010
R&D 100 Award – Nanocrystal Solar Cells, 2009
Publications available here
Affiliations
The Center for Dynamics and Control of Materials: A Materials Research Science and Engineering Center (MRSEC) at UT Austin